Ely High School 1905-1972 - A Photo Album
"somewhere to put photo bits and bobs for the time being"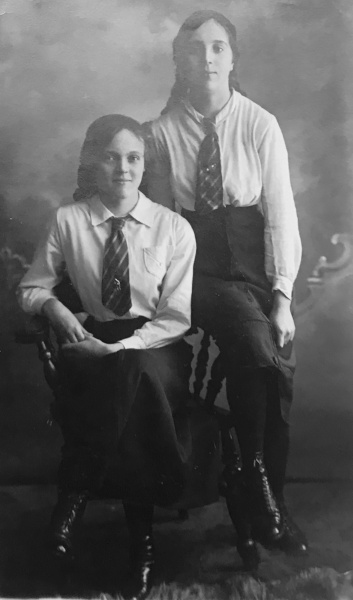 Rosemary Mahy (
Cranwell
): This photograph was taken for Christmas 1914 and is a postcard.
It is of my two aunts Dorothy and Florence
Cranwell
proudly wearing their school uniform and displaying impressively shiny boots.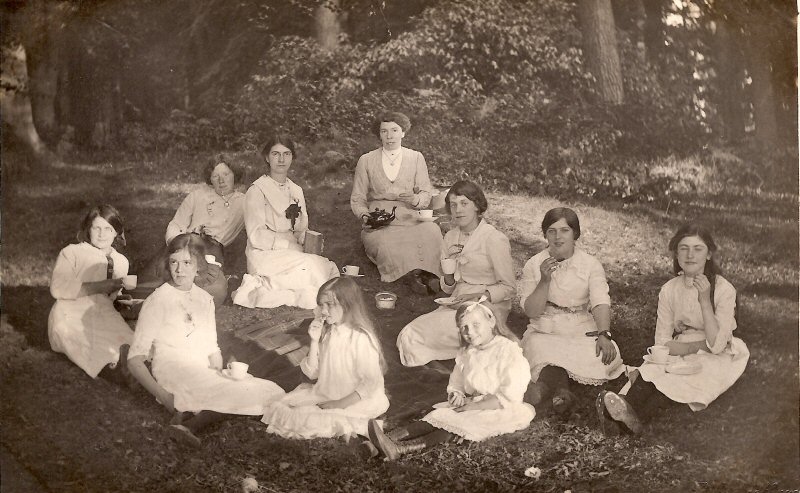 Captioned 'Ely School Picnic': courtesy of Ely Museum, from a batch of supposedly 1920s photos.
It could be rather earlier.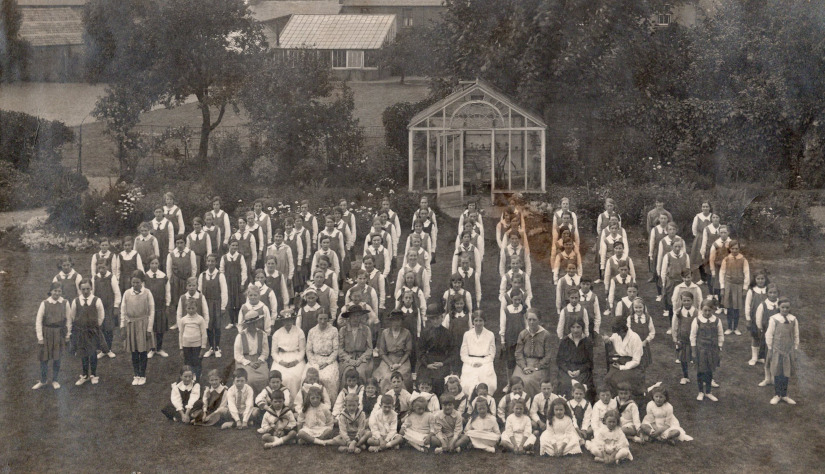 Claire Pettit provided this undated photo which appears to include the Preparatory Department.
"Another old photo A4 size, of Bedford House which is undated but has both my aunt Jean Pettit
and her brother, my uncle Jack Pettit (known as John) on it. Going by their ages it must date to 1916/17/18.
On the back is written: front row seated Comins, Comins, Ashby, Barnet
and back row seated J. Harvey, Jean Pettit, Jack Pettit.
Headmistress Miss Pigott.
Jean is on the far right seated with a bow in her hair, and Jack is next but one with big white collar."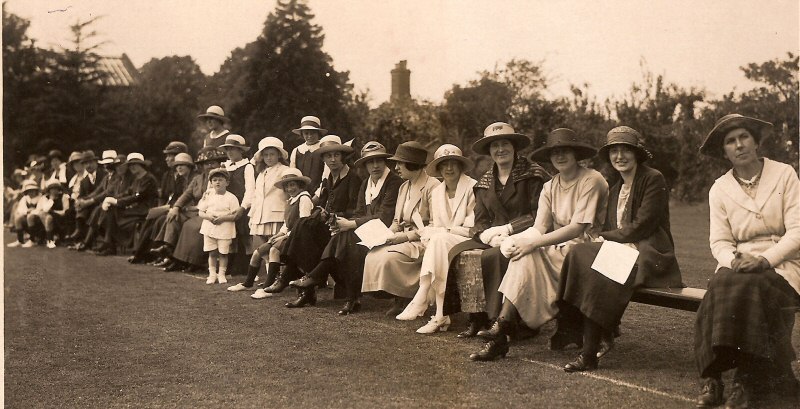 Spectators at an EHS event: courtesy of Ely Museum
On the original the woman below the chimney stack, in the dark hat, is identified as Elsie Fyson: see also a classroom photo below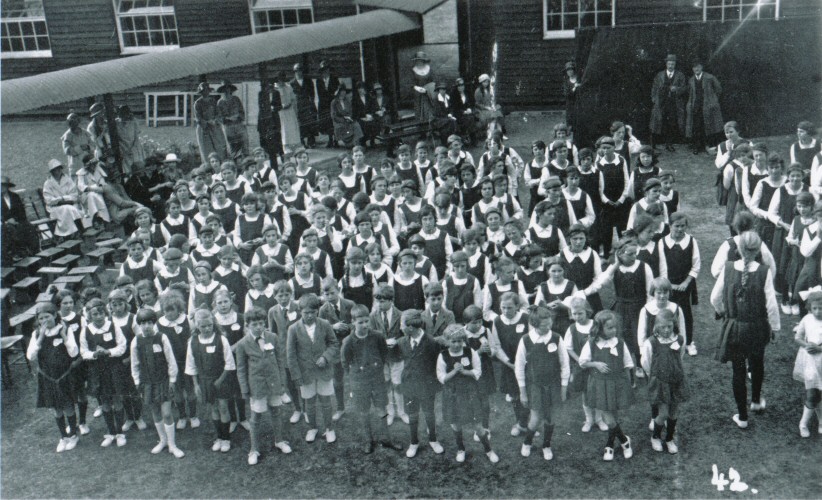 Preparatory Department late 1920s? Boys were also enrolled.
reproduced with the permission of the Cambridgeshire Collection, neg ref 95-1-15: via Christine Fuller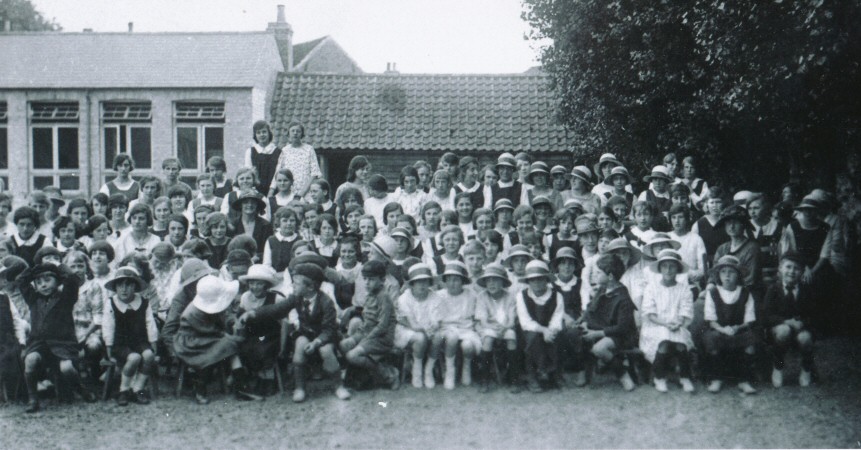 Preparatory Department 1920s/1930s? Boys were still present.
reproduced with the permission of the Cambridgeshire Collection, neg ref 95-1-16: via Christine Fuller

Possibly 1920s Senior Classroom: courtesy of Ely Museum
in 'desk lines', front to back: line 1 1 - 2 - 3 - staff member; line 2 1 - 2 - 3 - 4 - 5
line 3 1 - 2 - 3 - 4 - 5; line 4 1 - 2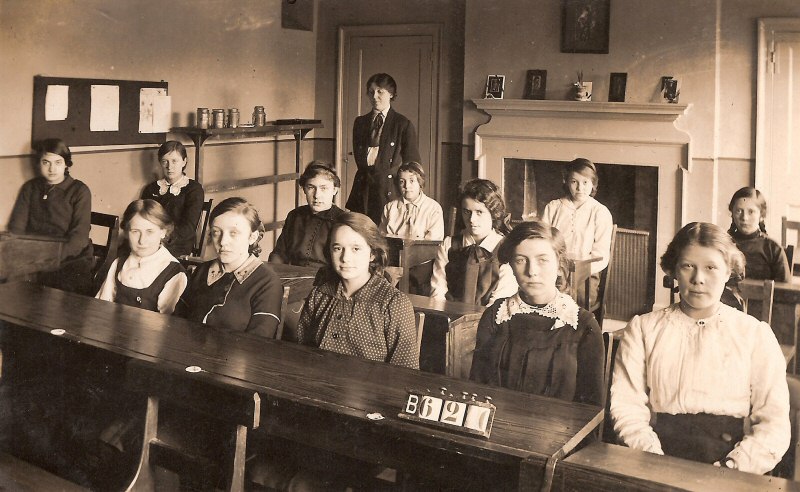 Possibly 1920s In a different classroom: courtesy of Ely Museum
The girl on the extreme left is identified as Elsie Fyson on the original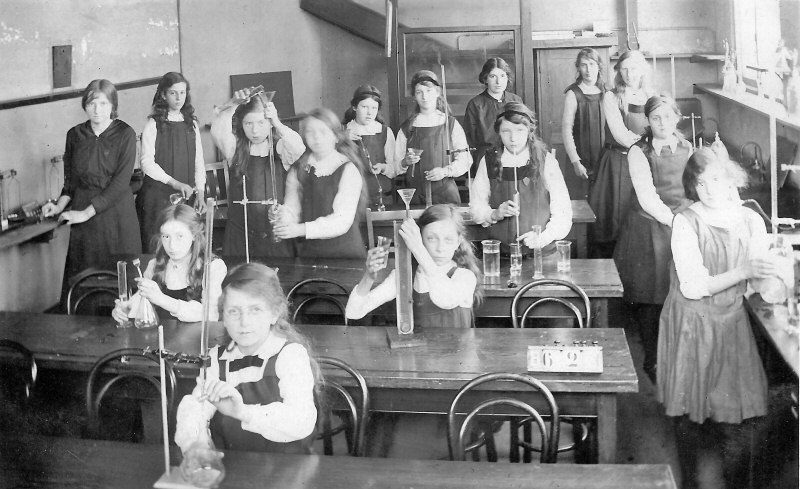 Possibly 1920s Science Class: courtesy of Ely Museum
A Sports Day
1923 or 1924 Form IIIa or Remove
photo with Miss Goodin can be seen via
Sport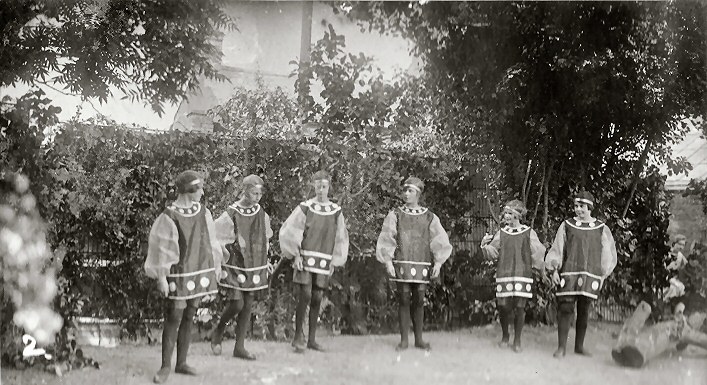 Joyce Day from Stretham, who is on the 1925 School photo, is 4th from the left of this photo:
source Sarah Hellon (dau): ref 6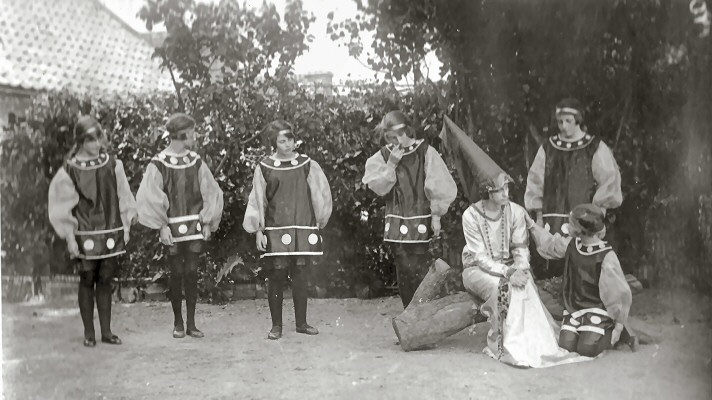 Joyce Day from Stretham, who is on the 1925 School photo, is on the extreme left of this photo:
source Sarah Hellon (dau): ref 2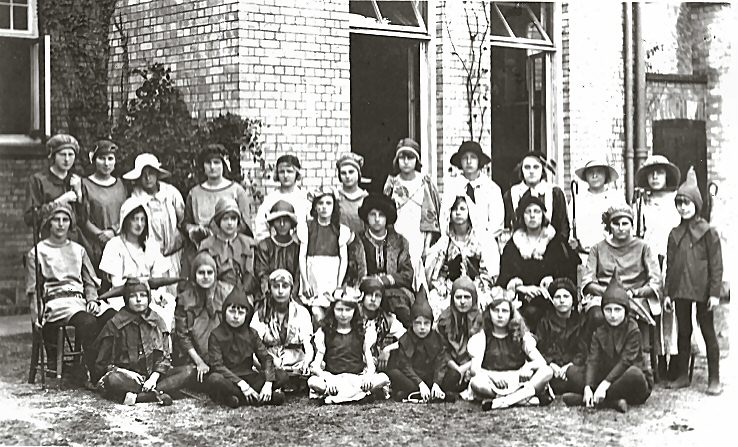 from the collection of Joyce Day from Stretham, who is on the 1925 School photo: source Sarah Hellon (dau): ref 3
from the collection of Joyce Day from Stretham, who is on the 1925 School photo:
source Sarah Hellon (dau): ref 8
(this appears to be the same as one provided by Bridget & Susan Riley further down the page)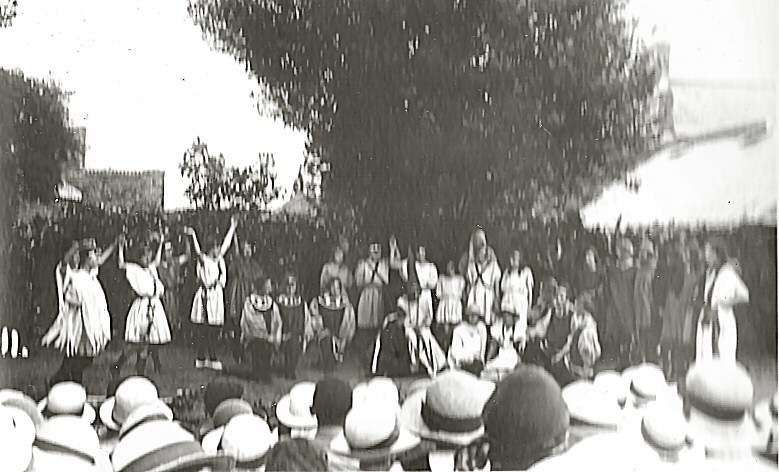 from the collection of Joyce Day from Stretham, who is on the 1925 School photo:
source Sarah Hellon (dau): ref 11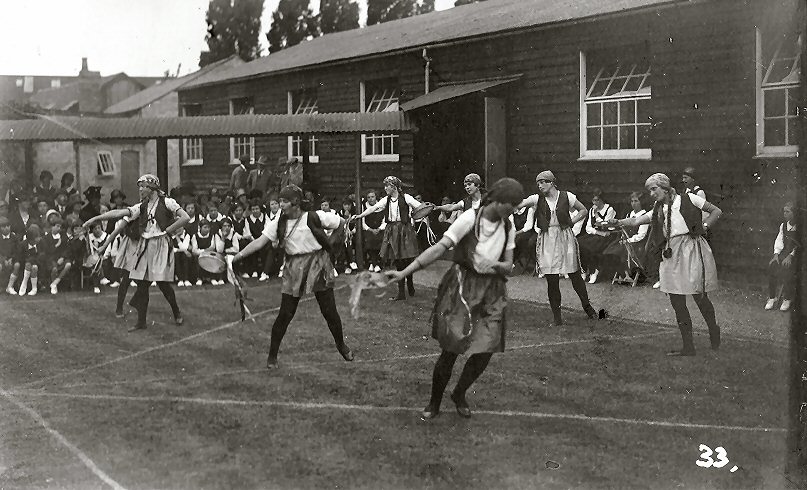 from the collection of Joyce Day from Stretham, who is on the 1925 School photo: on the extreme right in this photo:
source Sarah Hellon (dau): ref 12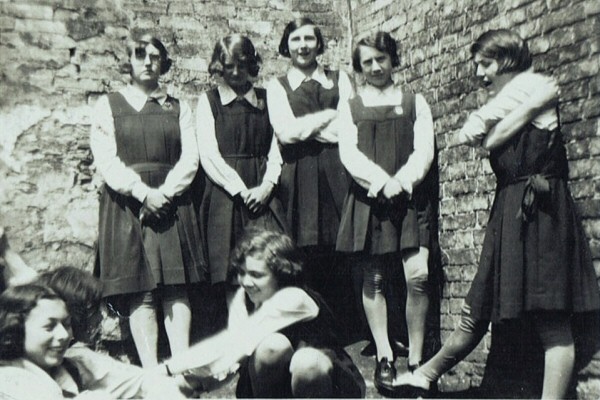 Gwen Hepher c1929: eight girls in uniform, casual, at the angle of walls,
possibly same spot as below: GMH back row, 4th from left: source - Peter Searle

Gwen Hepher c1929: six girls on each other's knees, in front of a wall: GMH 4th from the left: source - Peter Searle

Gwen Hepher c1929: in front of flower bed in front of brick wall which has brick triangles at the top of the wall: GMH is on the left
source - Peter Searle


EHS teacher, from Gwen Hepher's album, c1929: source - Peter Searle



Gwen Hepher's Art Prize, June 1929: Manuscript Writing & Lettering, Sir Isaac Pitman & Sons
source - Peter Searle

Gwen Hepher's Upper IV Art Prize Certificate, June 1929: source - Peter Searle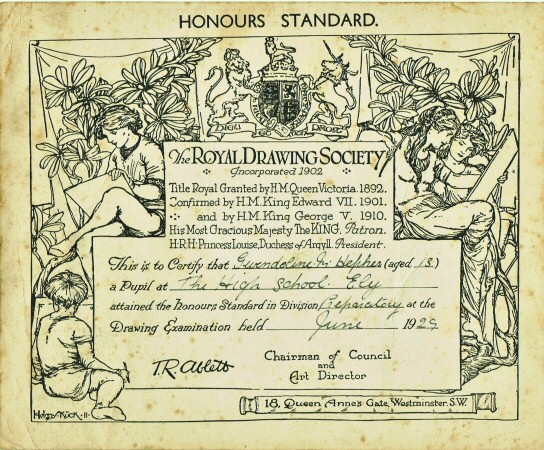 Gwen Hepher's Royal Drawing Society Honours Certificate, Preparatory Division, June 1929
source - Peter Searle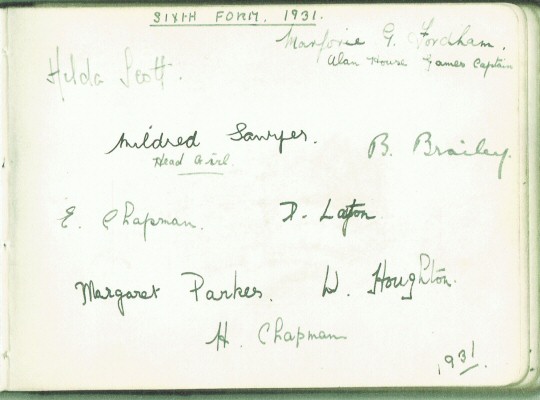 Some 1931 Sixth Formers' signatures from Gwen Hepher's autograph book: Hilda Scott, Marjorie G Fordham (Alan House Games Captain), Mildred Sawyer (Head Girl), B Brailey, E Chapman, D Layton, Margaret Parker, W Houghton, H Chapman
source - Peter Searle

Miss BR Baird, 1933
source: Brigid Knight (Riley) & Susan Riley from their mother's papers (Brenda Taylor, whose mother was Mrs CM Taylor, for many years Hon Sec of the OGA)

Miss Simpson, 1933
source: Brigid Knight (Riley) & Susan Riley from their mother's papers (Brenda Taylor, whose mother was Mrs CM Taylor, for many years Hon Sec of the OGA)

1933 L-R: Miss Danby - Miss Towele - Miss Foden - Miss Macmurtry
source: Brigid Knight (Riley) & Susan Riley from their mother's papers (Brenda Taylor, whose mother was Mrs CM Taylor, for many years Hon Sec of the OGA)

1933 Miss Danby
source: Brigid Knight (Riley) & Susan Riley from their mother's papers (Brenda Taylor, whose mother was Mrs CM Taylor, for many years Hon Sec of the OGA)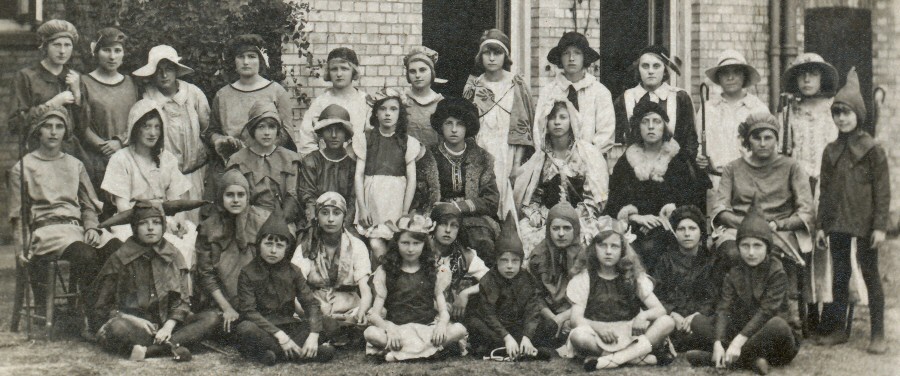 Costumed group, undated, possibly linked to following image
source: Brigid Knight (Riley) & Susan Riley from their mother's papers
(Brenda Taylor, whose mother was Mrs CM Taylor, for many years Hon Sec of the OGA)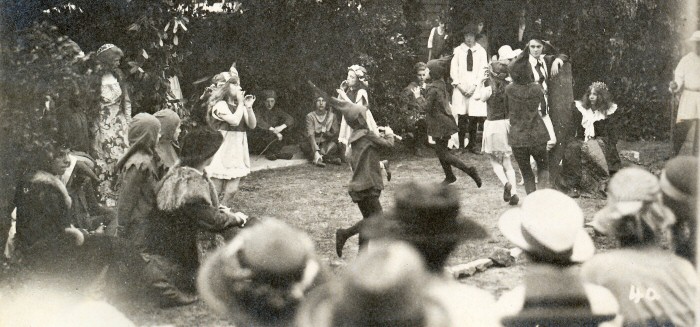 Dance in costumes, undated, photo #40: see also the same photo earlier provided by Sarah Hellon.
source: Brigid Knight (Riley) & Susan Riley from their mother's papers
(Brenda Taylor, whose mother was Mrs CM Taylor, for many years Hon Sec of the OGA)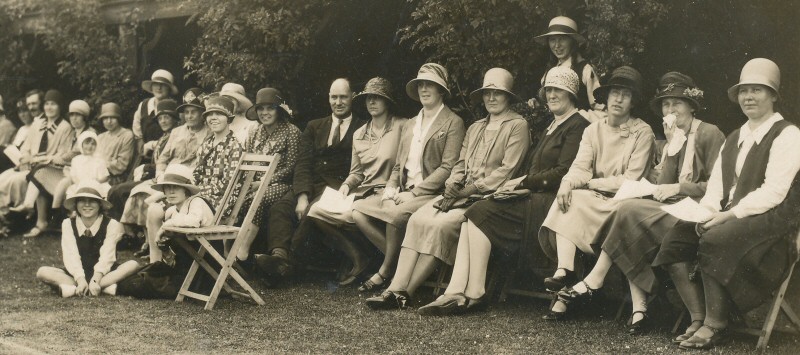 Spectators, undated, photo #21
source: Brigid Knight (Riley) & Susan Riley from their mother's papers
(Brenda Taylor, whose mother was Mrs CM Taylor, for many years Hon Sec of the OGA)


Preparatory and EHS pupils, undated, photo #37
source: Brigid Knight (Riley) & Susan Riley from their mother's papers
(Brenda Taylor, whose mother was Mrs CM Taylor, for many years Hon Sec of the OGA)

location view for photo below


Susan Riley: In fact this is a complete mystery to me despite the fact that my mother has written my name on the back.
I thought it was a Form III but looking at it again the girls look older than 11-12 and it might even be before my time.
Peter Searle added in 2018 "I recognise my mother Gwendoline May Hepher is in the photograph from Brigid Knight.
My mother, who attended EHS from 1927-1931, is sitting cross-legged in the centre of the front row"
row 4 back: 1 - 2 - 3 - 4 - 5 - 6 - 7
row 3: 1 - 2 - 3 - 4 - 5 - 6 - 7
row 2: 1 - 2 - 3 - 4 - 5 - 6 - 7
row 1 front, cross legged: 1 - 2 - 3 - Gwendoline May Hepher - 5 - 6 - 7
source: Brigid Knight (Riley) & Susan Riley from their mother's papers
(Brenda Taylor, whose mother was Mrs CM Taylor, for many years Hon Sec of the OGA)

Prize book plate
via her daughter, Anne Blake (Russell)


In the High School garden in 1950/51 L-R: Pamela Bryant - Clare Bidwell - Norma Goulty - Angela Roaks (St Etheldreda)
- Avis Youngs - Mary Reynolds
image via Christine Fuller (Bell): IDs Christine Fuller, Avis Bidwell (Youngs)


Miss Moira Mahoney (English), Summer 1952
photos source: Carol Driver (Clarke)

some of form V alpha Summer 1952
back: Shirley Jordan - Margaret Biggs - Miss Mahoney - Jill Smith
front: Anne Green - Rita Crabb - June Audus

Some of V Alpha 1953, taken by Sheila Heavens (Cox)

standing: Barbara Taylor - Maureen Dooling - Beth Morley - Shirley Holmes - Marjory Cooper - Janet Lane - Margaret Harrison

kneeling: Jean Atkinson - Sally Lyon - Jean Gotobed - Mary Winter - Yvonne Dockerill - Sheila Jordan - Sylvia Neave

sitting: Josephine Moore - Barbara Beamis - Dorothy Spencer

Fifth form group, ca 1958


back row: Mary Rudderham - Mary Prior - ?Margaret Gimbert - Anita Richards - Daphne Foster - Wendy Hare - Janet Saberton - unknown
kneeling behind middle row: Josephine Talbot/Jean Porter
middle row. Sally Cochrane - Valerie Bunkell - Ann Fendick - Margaret Fletcher - Georgina Smith
front row: Teresa Green - Sandra Cooper - Pat Burford - Diana Ward - Jean Watson
Barbara Register (now Attwood) says: "I know it is blurred. Taken on my best Box Brownie."
IDs: Barbara Attwood, Christine Bell


EHS and others ringing at St Mary's, Ely, for Joan Jackson's (Miss Joan Brown - Music) wedding in 1958.
L-R: Stella Cork - 2 - Barry Bass - 4 (obscured) - Susan Turnill - Rosalind or Rosalyn Lockwood - Margaret Stanger
source: Stella Cork: IDs Christine Fuller (Bell)


Mary Reynolds (Domestic Science - Byfield) - Margaret Dobson (History - front) - Pam Brook (English) - Miss Huddlestone (Maths & Science) - Stella Cork (PE) - Hillary Dewar (Music),
c.1957-9 at the new site. I can't remember where it was, but it was off limits for the girls I think. [editor - see extract from a sports day photo]
source: Stella Cork: IDs by Stella Cork and Ruth Bester


Margaret Dobson (History) - Stella Cork (PE) - Hillary Dewar (Music), c.1957-9 at the new site.
source: Stella Cork

Some of Form IVA, 1960?

Back: Rosamund Yeomans - Pauline Morris - Jackie Bidwell - Miss Stella Cork - Ruth Bester - Carol Macer
Front: Pauline Beavan - Patricia Muir - Diana Taylor - Gloria Edwards

Jackie Sotheran (Bidwell) adds: Some of us are wearing the infamous navy blue knickers which had a small pocket, one assumes for a hanky? Did we show signs of extra athleticism even in our early years, and that is why we were in the photo? Ruth and I went on to play hockey for Cambs county. Ruth was definitely Victrix Ludorum at one Sports day at least and broke school sports records for throwing the discus.
source: Stella Cork, IDs assisted by Jackie Sotheran (Bidwell)

Jackie also recalls her first use of the gymnasium at Downham Road: Maybe the story of my first gym lesson on my first day at the new school Sept 57, might stir a memory. We were so excited in the new sports hall, obeying instructions with alacrity. The teacher, who I assume must have been Miss Cork, but to be honest I am not 100% sure, instructed us to climb the wall bars.

I was so keen to obey. Up to the top, clasp hold of the strange wooden hoops at the top. Find myself falling down. The 'horse' vaulting equipment that had been stored there, out of the way, coming with me, hits my nose, blood everywhere. Dramatic way to make myself remembered? Maybe that story evokes more than trying to look for any resemblance. I never went to a doctors and have a bump on bridge of my nose to this day!

EHS KSE Madrigal Society Concert 1966


Conducted by Roger Firkins
Girls L-R: Ann Goodrich - Janis Watterson - Judith Street - Carolyn Brunt - Susan Dewey - ?
Next to Ann Goodrich is Nigel Perrin, one of the original Kings Singers
via Pam Fenn (now Austin)

Form Lower IIIG, 1967


back: Carol Jordan - Diane Elsegood - Cynthia Black - Dorinda Jeffery - Jennifer Griffin - Susan M Chapman - Barbara Coxhead - Julie Frost
middle: Cherry Hotchkiss - Sandra Brown - Julie Driver - Bridget Houghton - Penelope Gower - Lorraine Bowcock - Gwendoline Griffin - Lesley Hammond - Jennifer Earl - Angela Gustke
front: Margaret Cross - Diana Cornish - Brenda Corn - Joy Harris - Valerie Drake - Jane Clarke - Glynis Boxall - Biddy Heaps - Beverley Audus
via Christine Fuller, source not clear: this image is from a photocopy, if you have an original, please let us know

The other Lower Form III, 1967, LIIIH

back: Sally Page - Cheryl Turner? - Elaine Staines - Anne? ? - Susan Newman - Jean Whitwood - Gillian Murfitt - Andrea Page (twin to Sally)
middle: Elizabeth Street - Elizabeth Lockwood - Kira Morrow - Olive Malpas - Wendy Wrigall - Maureen Sulman? - Diane ? - Michelle ?
front: Christine Pollard - Elaine Norman - Maureen Munrow? - Hilary Turner - Susan Papworth -Edwina Lofts - Felicity Markham - Susan Peacock - Barbara ?

photo source: Kira Morrow (now Davison) - Kira thought the form mistress's surname began with H
Fiz (Felicity) Markham, who has added many names says 'Our form teacher was Miss Hearnshaw. I can't recall her subject. We were LIIIH.'
[From the School magazines, Miss Hearnshaw was in the Maths Department.]




Choir in a concert, 1960s


Conducted by Hillary Dewar and accompanied by Angela Covey-Crump: via Pam Fenn (now Austin)

Madrigal Society Concert 1968


Girls L-R: Janis Watterson - Judith Street - Penny Bush - Carolyn Brunt - Susan Dewey - Katherine Gandy - Diane Freeman
via Pam Fenn (now Austin)

1968 Chemistry Lab photo


Mr Murphy (Lab Assistant) and Mrs Maud Jones (Chemistry) plus Susan Lever, Linda Law and Pat Uttridge: source Wendy Roberts (Imrie)

Choir Concert Spring 1969


Conducted by Joy Greenwood: via Pam Fenn (now Austin)

Woodwind Quintet 1960s


L-R: 1 - 2 -3 - Penny Bush (Bassoon) - Carole Lindsey (Clarinet)
via Pam Fenn (now Austin)

Form 1S 1971-72


identified by Karen Eden, original just says 1971-72 on the back: image via Christine Fuller (Bell)
back: 1 - 2 - 3 - 4 - Stephanie Czarnobaj -Susan Chipper - Catherine Lancaster - Kim Grindley
row 3: 1 - 2 - Julia James - Susan Clarke - Jacqueline Olds - Alison Savage - Kate Bird - Kim Banyard
row 2: Linda Barnett - Georgina Hawkes - Karen Barnett - Ann Theobald - Caroline Grange -6 - Jennifer Hard
front: Denise Harrison - Karen Coutts - Denise Harrison - Elaine Gulliver - Beverley Thulbourne - Sacha Britten - Naomi Hillman
IDs: Karen Eden: "NB, there were two Denise Harrisons"


A 1971 Form: L-R: Back: Sheila Gammon, Wilburton - Lynne Reeder, Littleport - Anthea Dewey, Ely - Hilary Cross, Ely - Susan ? Maple-Doram
Tina Bailey, Sutton - Helen Rumsey, Stuntney - Carol Lock, Ely - Kathryn Bishop, Ely
Middle: Chrisso Christou, Cambridge - Michelle Greensmith - Linda Cross, Littleport - Susan Gresham - Morenike Bucnor, Ely
Brenda Human, Ely, - Julie ? - Sarah Lake - Anna Humphries, Sutton
Front: Patricia ? - Belinda Hobson, Ely - ?Jennifer ? - Mandy Hagley, Soham - Yvette Scott - Lindsay Driver, Burwell
Rosemary Smith - Jayne Partridge - Lesley Chapman, Ely - Judith Parnell
image source: Brenda May (Human) IDs: Brenda May (Human)


Form 1Ma (Miss Rosemary Margetson, Biology) 1971-71
back, row 4: Kelly Howard - Naomi Smith - Julia Hartley-Hawes - Sandra Simpson - Christine Fenn - Amanda Ford - Sian Ratcliffe - Janet Murfitt
row 3: Lynne Beeton - Alison Phillips - Jane O'Connor - Anne Peacock - Linda Papworth - Linda Challis - Susan Crick - Anne Clarke
row 2: Alison Stubbings - Susan Blunt - Jacqueline Haden-Scott - Heidi Yeo - Beverly Kett - Jean Sutton - Helen Pettit
front, row 1: Sally Driver - Zoe Palmer - Gillian Laws - Beverly Starling - Nicola Tunnell - Karen Eden - Wendy Osbourne
source: Carol Driver (Clarke): photo by Studio Five, Thetford

---

If you can add names or recollections please contact us
page created 17 Jul 10: update 17 Dec 20: 19 Mar 22